Medium Voltage Products
Our drives, motors and automation systems deliver quality you can trust.
Explore our Medium Voltage portfolio.
Five Star Electric (FSE) is the world leader in the application and installation of Medium Voltage Variable Speed Drive and Solid State Reduced Voltage Starters. Our medium voltage variable frequency drive systems are designed to provide maximum versatility, efficiency and process availability, while the solid state starter packages are the perfect choice when speed control is not required, yet high capacity soft starting is desired. In addition to variable frequency drives, our medium voltage products include solid state starters, transformers and switchgear rated from 2.3kv to 13.8kv and ranging from 150 kW to 120 MW at motor speeds from 10-15,000 rpm. Medium voltage circuit breakers, disconnects, synchronous bypass units, transformers and power control rooms are specified and selected based on customer's needs and application criteria.
Medium Voltage Variable Speed Drives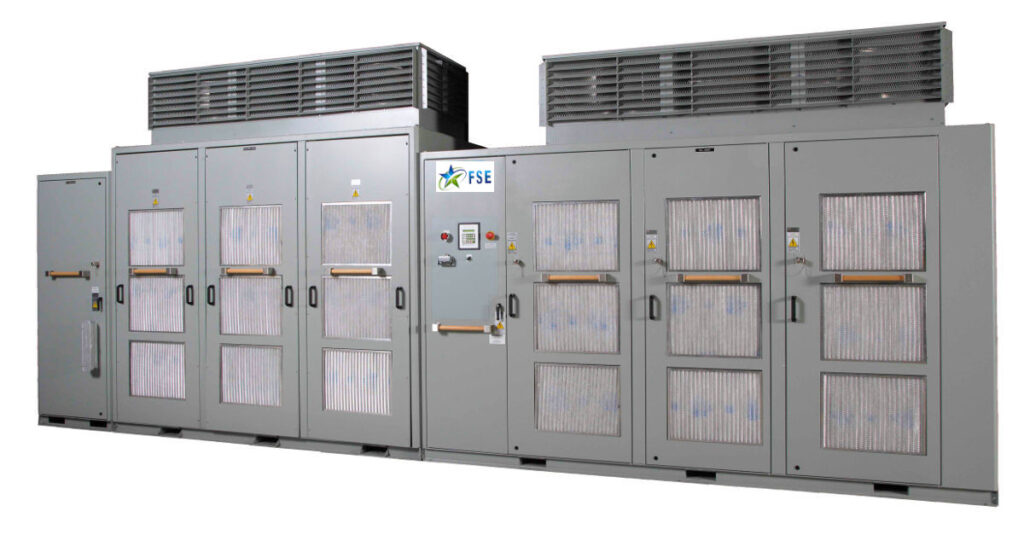 Our engineering expertise has made our drive packages the choice for demanding applications that require the highest levels of reliability, precision and longevity. Our VFD's have been utilized in applications ranging from power generation to oil and gas, water, marine, pulp and paper production, metals and steel, to HVAC. The VFD packages are designed to help you significantly increase productivity, enhance energy efficiency, and reduce operating costs.
Resources and Links
Download Literature…

Advantages
Lower operating costs
Precise process control
Enhanced energy savings
Increased production efficiency
Exceptional reliability
Intuitive HMI
Configurations
Integrated Programmable Logic Controller for up to 8 motors
Door Mounted HMI (optional)
Copper Bus Assembly-Run Bus and VFD Bus-800-1200 Amp
Electromechanical or Solid State Bypass Configurations
Manual or Synchronous Bypass Options
Complete Integrated Line-Ups with Main Input Switch Assemblies or Main Breakers
Motor Protection Relays
Integrated in Power Control Buildings
Medium Voltage Solid State Starters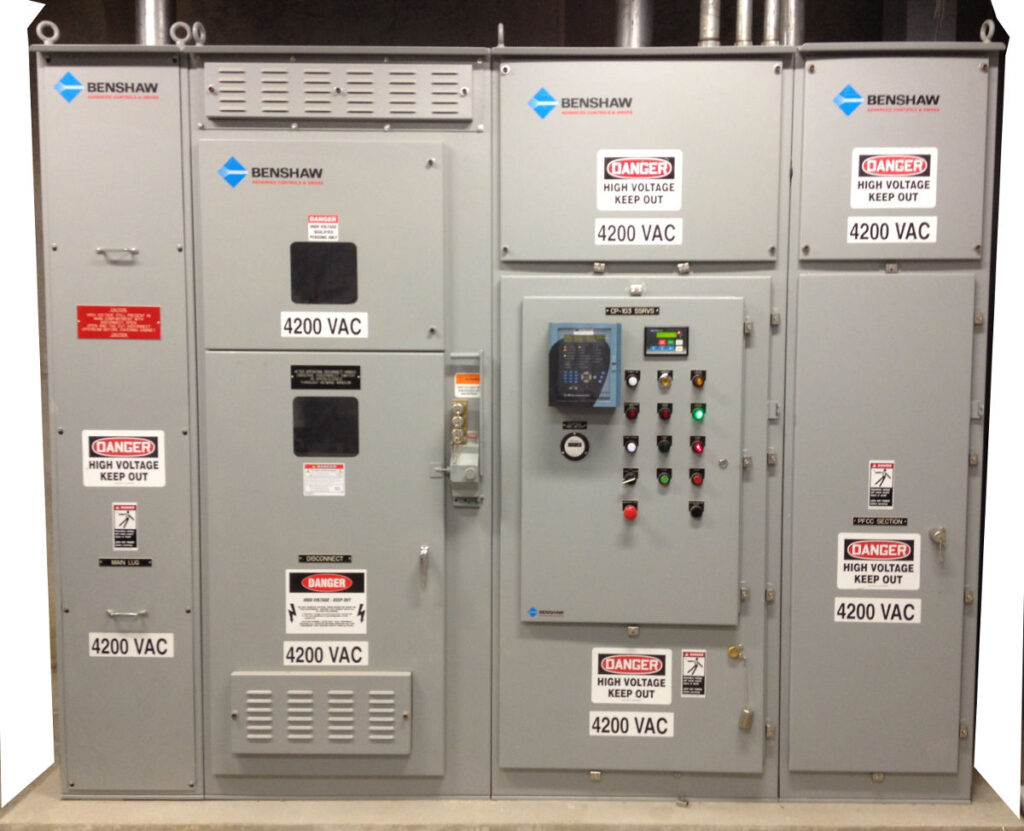 Only Benshaw has designed, built and supports more than 40,000 solid state starters, from 2,300 volts to 15KV, for applications ranging from pumps, compressors and chillers to fans and blowers, crushers, chippers and conveyors; for every motor type: induction, synchronous, two-speed, reversing and wound rotor. The RediStart CFMVRMX series with MX3 technology is a fully integrated, programmable family of Class E2 load break/combination solid state starters. This integrated design includes control and power electronics, bypass and isolation contactors that reduce maintenance and operating costs when compared to other methods.
Resources and Links
Download Literature…


Advantages
Protect machinery from failure and excessive maintenance caused by mechanical shock during starting or stopping. Solid State Starters provide smooth, stepless acceleration and controlled deceleration.
Protect electrical systems from disruptive voltage drops and power outages caused by motor locked rotor inrush current. Solid State Starters precisely control the current ramp during start up.
Protect mission critical motors from failure or unscheduled outages caused by machine or electrical system faults. The Solid-State Starter provides complete, high performance, coordinated line monitoring, motor control and protection.
Features
Nominal Voltage Ratings 2.3 KV TO 13.8 KV
Closed Loop Current Control Ramp
Torque Ramp, Power Ramp (KW), Voltage Ramp
Vacuum Bypass Contactor, Fixed Mounted
Power Ratings 500% FLA For 30 SEC 125% CONT.
Control Input 120 VAC or Dry Contact, 2 OR 3 Wire
Standard Insulation Test 2X Rated V + 2,000V
Ambient Temperature 0 – 40° C at Sea Level
Overall Efficiency (W/ Bypass) 99.5%
Metering Functions 47 Parameters
Relay Outputs 24 Functions
Over/Under Voltage Protection 10 to 30%
Power Loss (W/ Bypass) <1.0 Watt/Amp/Phase
Transient Protection DV/DT Circuits/PHASE
SCR Fiber Optic Firing Technique Continuous Block Gate
Medium Voltage Switchgear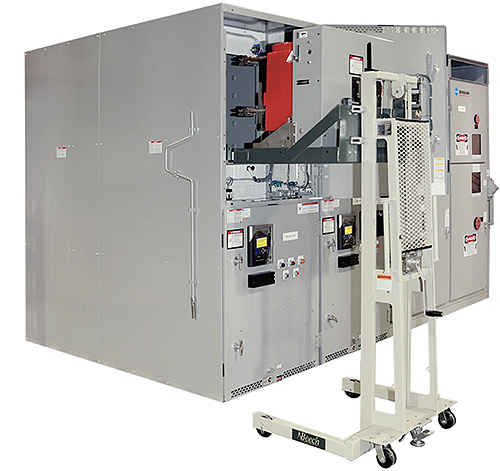 Our medium voltage switchgear offers a rack-out circuit breaker design. A remote breaker control panel and arc flash sensing options are also available to enhance personnel safety. In addition, we offer a full metal-clad switchgear solution. MVCB switchgear assemblies are provided in a NEMA-rated enclosure configured for use as a stand-alone unit, in an equipment line-up or in a motor control center (MCC) configuration. Our switchgear connects seamlessly to other equipment for a space-saving design to feed line-ups or in large starter solutions. The Five Star Engineering Support team is available to customize switchgear designs to meet a customers' specific application needs without extended lead times.
Resources and Links
Download Literature…

Advantages
Bolts directly to Solid State Starters or Variable Speed Drive packages
CSA Special inspection
Available in 1200A or 2000A standard (3000A option is custom)
Feeder protection included, customer to specify manufacturer
Available up to 13.8kV
Configurable with added options
Rack-out design standard
Remote breaker control panel
Features
40kA fault rated
Rack-out design
NEMA 1A indoor enclosure
Welded 11 gauge steel construction
Feeder protection with CPT and PT
Green open pilot light
Red closed pilot light
Amber trip pilot light
Open push-button
Closed push-button
Manual racking device
Bus rated to CB size
Line power top entry standard
Load power top exit